I am a full time worker, and I have a lot of ideas to make my keto lunchbox easy and fast to prepare and to eat.
You know I don't have much free time and I don't particularly enjoy to cook. Do you as well? Then read these no-cooking required meals with great keto macros.
I make sure my lunchboxes are ready in 5 minutes. One of my keto organisation tips, is having boiled eggs always ready to use, so I don't waste precious time during the preparation.
Read my ideas below. I have included macros and calories for each option. (Read why and how I calculate my keto macros read here).
Easy fast keto lunchbox to take with you on the go
1. Cabanossi, boiled eggs, tomatoes
2 eggs, 40g cabanossi, 40 gr cherry tomatoes, 1 tbsp olive oil:
443 cal, fat 80%, prot 19% ,carbs 1%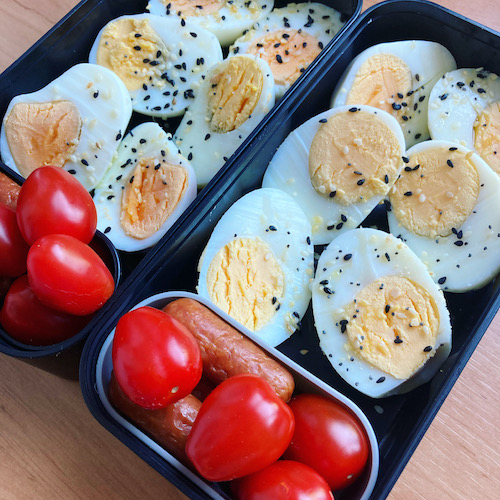 2.Hard boiled Eggs, Olives, Grana Padano, Salami, Blueberries
2 eggs, 5 olives, 50g grana Padano, 30g, salami, 20 g blueberries:
492 cal , fat 71%, prot 27%, carb 2%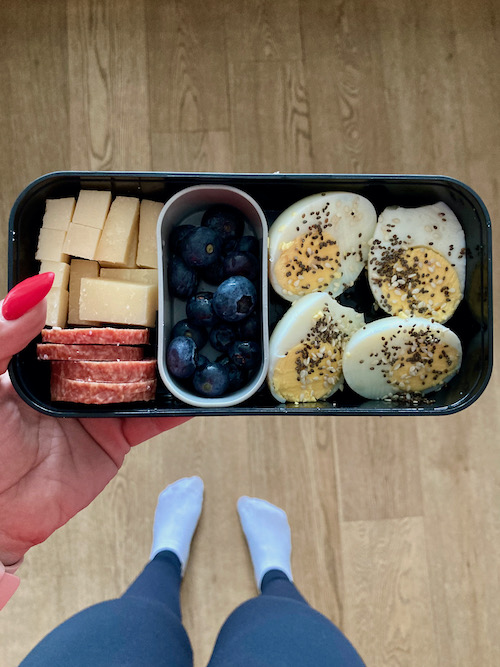 3. Egg, Pecans, Mortadella, Olives, Cucumber
1 boiled egg, 30 grams pecans, 60g mortadella, 40g olives, 30 grams cucumber slices:
530 cal ,fat 82%, prot 14%, carbs 4%
4.Blueberries, Olives, Macadamia nuts, Grana Padano
2 boiled eggs, 60 brie, 80 gr cucumber, 1 tbs olive oil
478 cal, fat 80%, prot 19% carb 1%
You can replace the cheese with any cheese, because they have similar values.
5.Avocado, Olives, Salami, Gouda cheese
25g avocado, 40g olives, 35g salami, 35g Gouda cheese:
436 cal, fat 83%, prot 16%, carb 1%
6.Salad with Chicken, Olives, cherry tomatoes
100g roasted chicken, 2 tbsp extra virgin olive oil, 40g olives, 50 gr cherry tomatoes
543 cal, fat 78%, prot 21%, carb 1%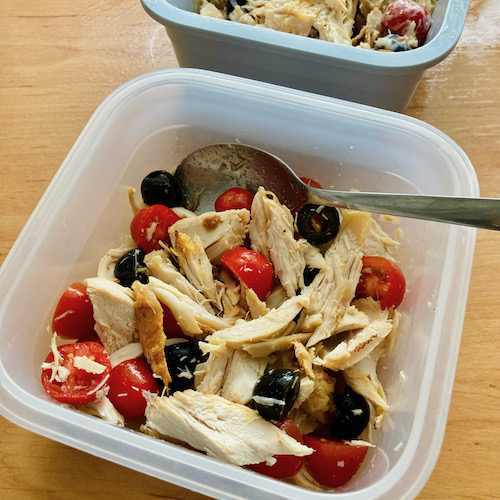 543 cal, fat 78%, prot 21%, carb 1%
I used to make this lunch if I have leftovers of roasted chicken. Usually I order it at home.
Read more about ordering keto food at home.
7.Low-carb pasta
Of course you can have low-carb pasta (and other similar options)!
Read all the low-carb options to enjoy pasta on a keto diet.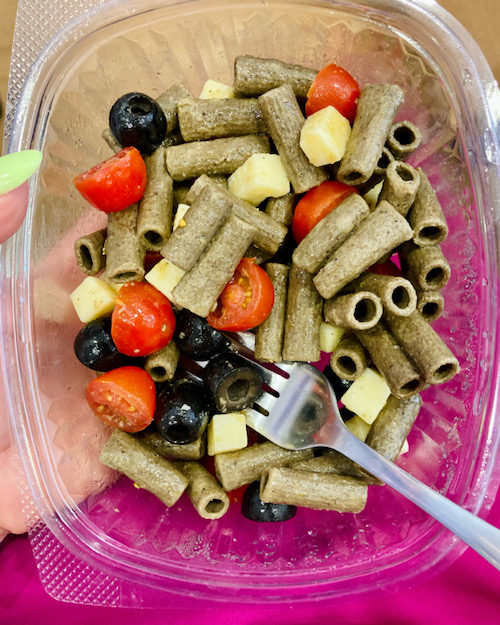 Some ideas.
Pasta salad
80 gr Lizza pasta, 40 gr Parmesan, 40 gr olives, 30 gr cherry tomatoes, 2 tablespoons olive oil.
726 cal, fat 74%, prot 21%, carb 5%
Pasta ham & cream
80 gr Lizza pasta, 50 gr cream, 15 gr ghee, 50 gr ham, 1 tbs oil.
592 cal, fat 74%, prot 20%, carb 6%
8.Nuts, cheese blocks, olives, low-carb bread
30 gr nuts, 30 gr cheese, 1 boiled egg, 50 gr low-carb bread, 40 gr olives, 1slice of salami
650 cal, fat76%, protein 20%, carb 4%
Read more about low-carb bread you can eat on keto.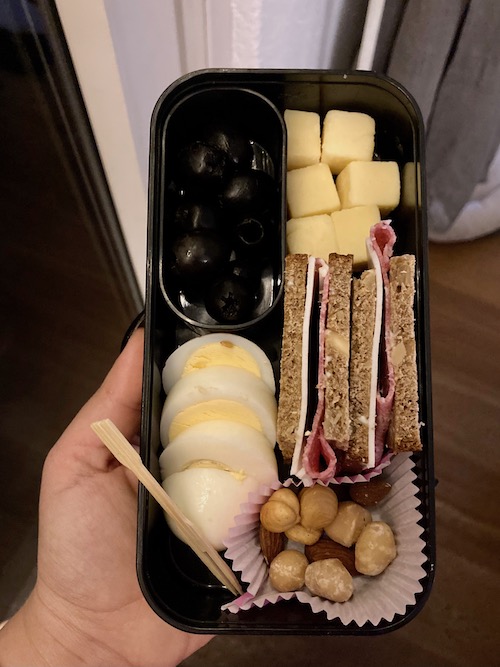 9.Edamame, nuts, cheese, olives
65 gr edamame, 30 gr cheese, 20 gr macadamia nuts, 20 gr olives
359 cal, fat 80%, protein 18%, 2% carb
I would probably add an egg here and a tablespoon of olive oil, resulting in:
557 cal, fat 82&, protein 16%, carb 2%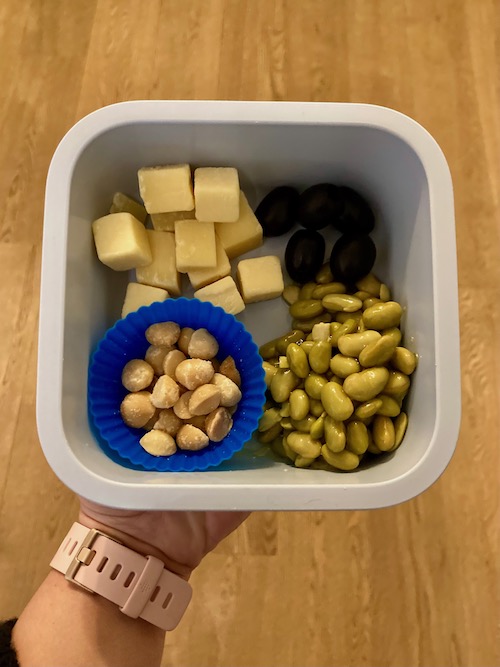 10.Babybel, Kabanos, Olives
This is maybe the fastest of the fast keto lunch to go, ever!
Just grab 3 babybel, 60g kabanos (or some lunchmeat) and 5 olives:
465 cal, fat 79%, prot 19%, carb 2%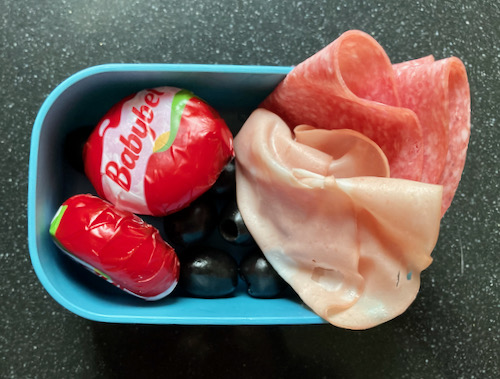 ---
I hope my fast keto lunchbox ideas will inspire you. Enjoy also my brief reel about lunchboxes.
The combinations are endless. Find what you like more and what is comfortable for you on the go.
Then mix them. Try to insert always a veggie! Not always I do, because I am not always confortable to eat them at work.
But I try to put at least 3 small tomatoes or some cucumber slices.
Keep track the macros but also the grams, so you will be sure you won't eat many calories.
I like to combine several food together, because I like the variety and the colours in my lunch box.
Read also:
Practical keto snacks on the go
Best keto products for a trip
How to keto on holiday