Carbonara is maybe the most Italian way to enjoy pasta, and the keto options are very tasty. Being Italian I know the perfect procedure to have the best Carbonara ever – even the keto version!
A proper carbonara is made with a lot of extra virgin olive oil, Parmesan cheese, pancetta (bacon), and eggs.
All these ingredients are low in carbs, but very high in fats! You will eat a caloric dish, but with great keto macros!
People on keto (or a very low-carb diet), can easily replace the pasta with low-carb options such as:
shirataki, like the Smart Pasta from B&F (I use the spaghetti)
low-carb flour pasta, like Lizza and Adam's pasta
zucchini noodles, you can easily make your own with a veggie spiraliser
Read my separate post about all the keto pasta options. It's focused on Holland, but it's valid for every country!

Here's the recipe for the Keto Italian Carbonara pasta. You can use this recipe for every pasta replacement! In my opinion, the Carbonara is more enjoyable with pasta having a strong texture. That's why I highly recommend to use shirataki or a commercial, low-carb pasta.
Keto Italian Carbonara pasta
Take your time to master the Italian Carbonara and make your own keto pasta: you can use low-carb pasta, zucchini noodles, or shirataki.
Ingredients
Keto pasta replacement (shirataki, veggie spaghetti, low-carb pasta)
Parmesan cheese (shredded)
Italian pancetta (or bacon)
4 eggs
Olive oil
Spices
Instructions
Cut and fry the pancetta (or bacon) with oil and onion.
Cook your pasta
Cook the pasta together with the bacon.
Beat the 4 eggs and add your shredded cheese.
Add the mix of eggs and cheese in the pan with the pasta
Mix all to form a dense cream. You have to be fast.
Serve warm and enjoy!
Notes
Nutritional values considers only the carbonara toppings. The pasta is excluded.
Recommended Products
If you purchase these products/services following my unique affiliate links, I will earn a commission paid for 100% by the vendor, and at NO ADDITIONAL COST to you.
Nutrition Information:
Yield:

2
Serving Size:

1
Amount Per Serving:
Calories:

650
Total Fat:

57g
Net Carbohydrates:

0,4g
Protein:

33g
Lizza Pasta
Cook the Lizza Pasta in the same way you cook a normal pasta. Even if this pasta is black, due to the ingredients, the texture and taste are basically identical to normal pasta. But less carbs!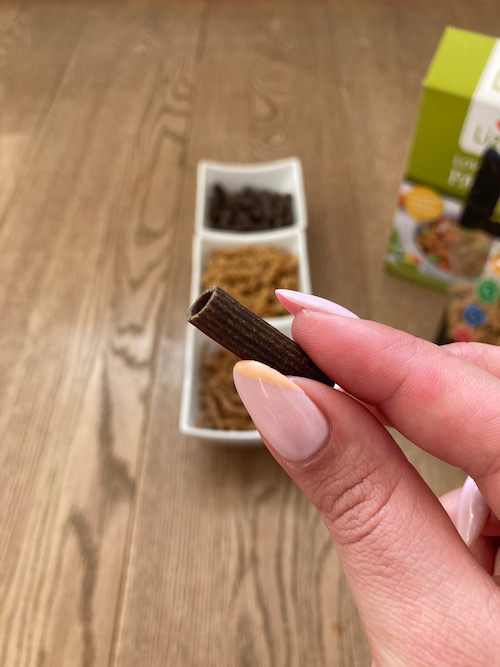 Adam's Pasta
Adam's Pasta it's also a great choice. This is a short-shaped pasta. The texture is great, and so the taste.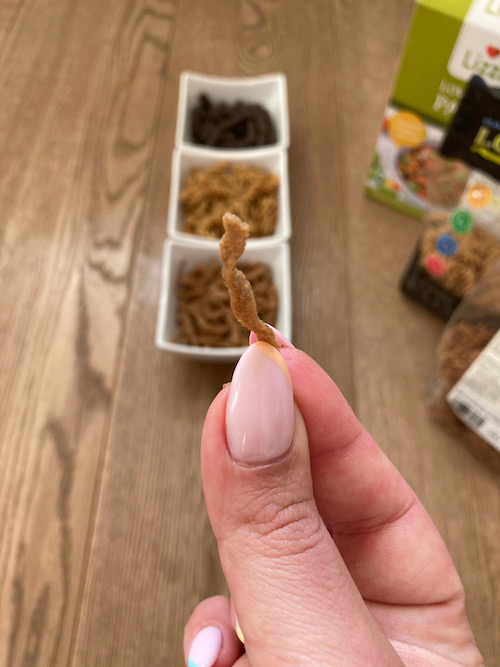 Shirataki
Remember to rinse the shirataki. In the past, I rinsed them very fast, but now I am really taking my time. I believe that running them well under the water is important.
For almost one year I was avoiding them because they gave me always severe stomach pain. Only recently I am introducing them to my diet again. I am rinsing them very carefully (about 5-6 minutes) and then cooking them for few minutes in a pan with some ghee.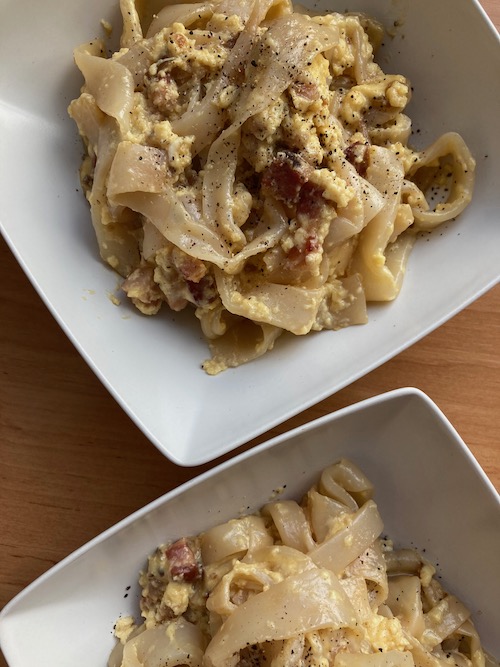 How to choose the right Pancetta
I used Italian Pancetta to make this recipe the more Italian possible. If you don't have the possibility to have some, you can use any piece of bacon. Buy if possible, the piece, not the slices. You can also buy sliced cubes.
Try to find the best quality because it will pay back in more flavour.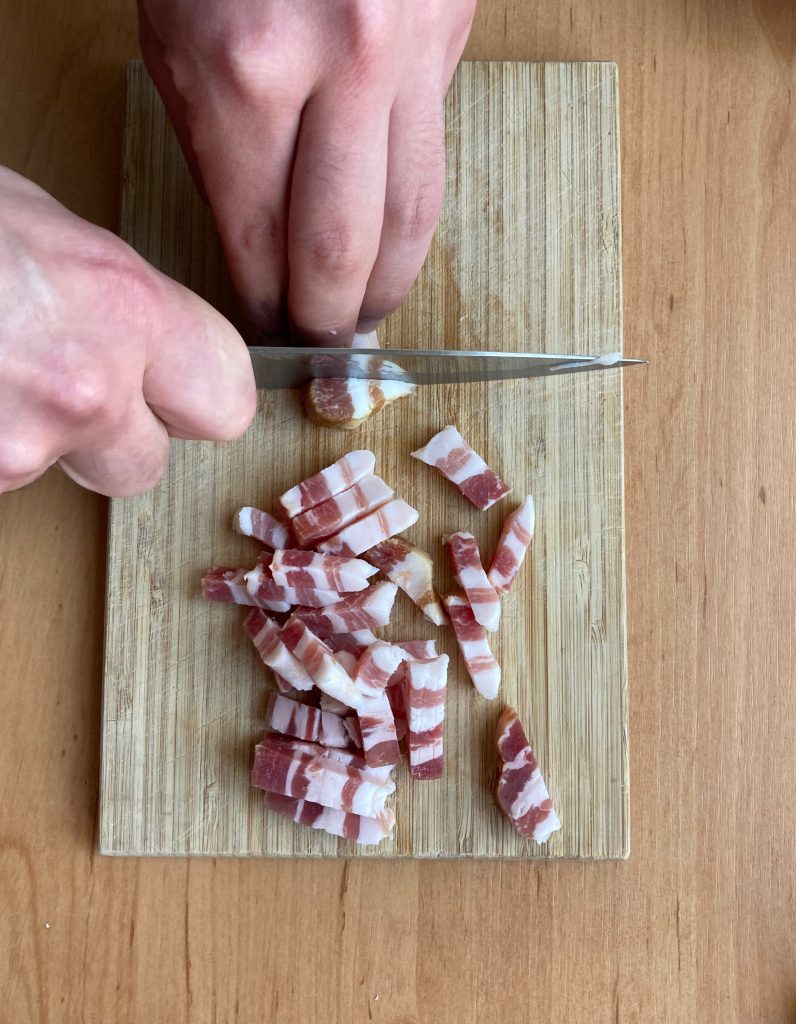 Keto Carbonara and guests at home
This recipe is so handy when you have guests at home (or if your family doesn't eat low-carb). You can choose to: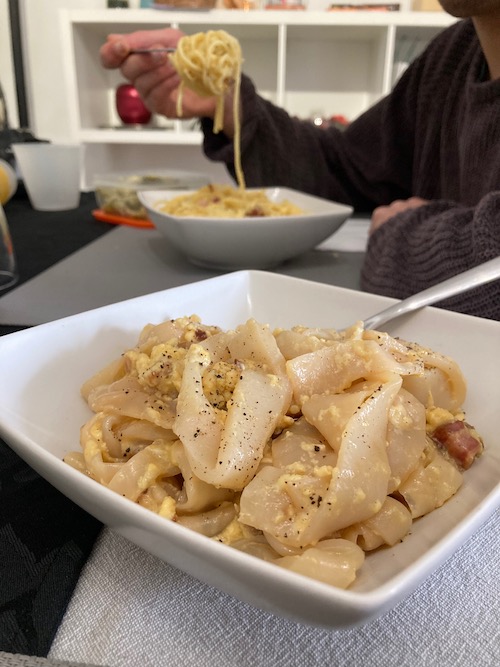 Cook separately the normal pasta and the low carb pasta
Serve to your guests low-carb pasta
I guarantee you that they will love also the second option!
Visual Recipe
In this reel you can see how the keto Italian Carbonara pasta is very easy to prepare.
I hope you will try this recipe asap!
---
"This post may contain affiliate links. This means I will get a commission if you purchase through my links, at no extra cost to you. All the opinions are my own. Read the full disclosure here."