Navigate to where you want to go:
Pamela is the founder of Keto Bites Amsterdam. She is an Italian living in the Netherlands for 10 years.
She started keto to shred down some weight and because she was very interested in the anti-inflammation benefits. She is so happy with the benefits and energy keto it's bringing to her!
Pamela loves to focus on her wellness. She likes also to cook and bake, and especially to experiment in the kitchen.
Since Amsterdam has not many choices regarding keto sweets, she decided to pursue her passion.
Read also: where to eat keto and low-carb in Amsterdam.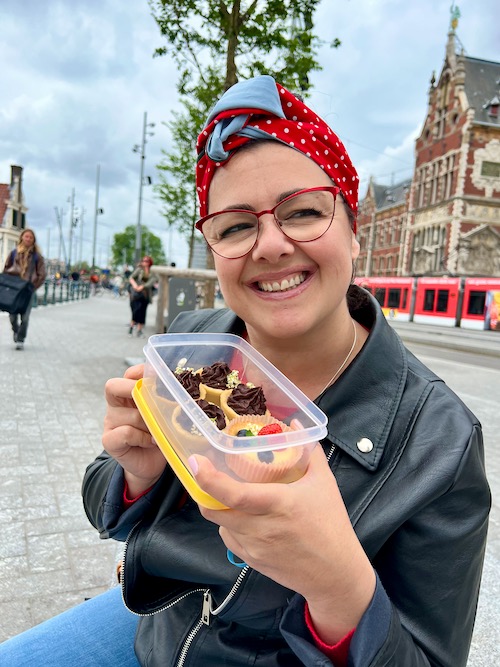 She is a feeder. She loves to feed people (as an Italian it's in her DNA!) and she is passionate about sharing: that's why she founded Keto Bites Amsterdam.
The products
Keto Bites Amsterdam combines the cutest combination of products. Every month there will be a different box.
The debut packet was the Keto Easter Box. This box contained the following products:
Small lemon bites
Blueberries yogurt breakfast bar
Pecan crunch
Choco divine cookies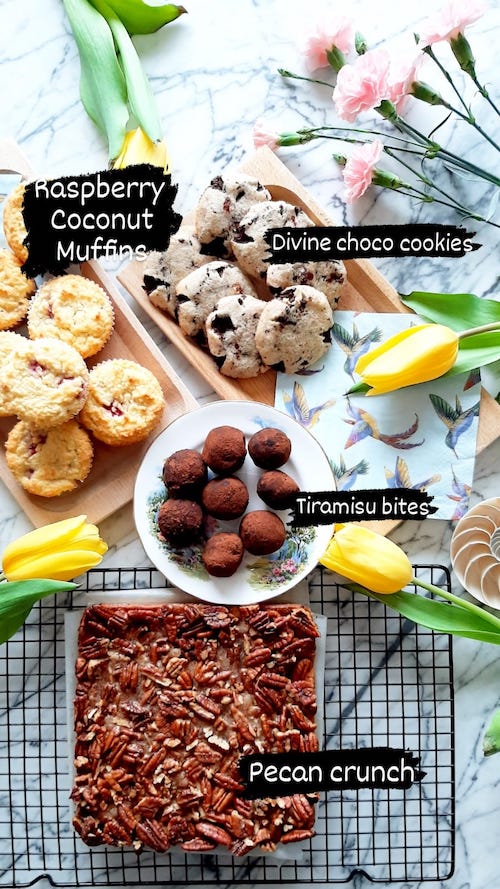 The keto Easter box was just the beginning. Other great products I had the pleasure to try:
Ferrero Roketo: What a cool name, eh?
Tiramisu bites
Raspberry coconut bites
Keto Bites Amsterdam will come out with new products soon. Follow Keto Bites Amsterdam and prepared to be surprised…Pam has a lot of ideas!
The ingredients
Keto Bites Amsterdam's products are prepared with healthy and keto-friendly products. Many of these products are also bio, like the eggs. Coconut and Almond flour, high quality chocolate, coconut oil. The sweeteners used are Erythritol and Stevia.
It's also interesting to notice that no psyllium is used: Pamela is allergic to it and she preferes not to put it.
So if you are allergic like her to psyllium, you are safe with these products.
The Macros
All the products are low-carb and have perfect macros to fit a low-carb and keto diet.
Conservation
Most of the products can be stored in the fridge up to 1 week. You will find suggested information on the box.
Keto Bites Amsterdam: The delivery
You can place your order through Keto Bites Amsterdam Instagram Page.
For every info contact Pam through her Instagram page.
Keto Bites Amsterdam: The packaging
Pamela wants to pursue her passion in regard of the environment. She is careful to not waste any material and the packaging is essential, yet visually pleasant.
My favorite products
I tried all of them and Oh my Goodness! I am totally in love with everything. The freshness of the ingredients it's undeniable from the first bite.
If I have to choose 3, my favorites are:
Small lemon bites
Pecan crunch
Tiramisu bites
In May, I also ordered a whole pan of Pecan crunch for my bf b'day. I love the Pecan crunch so much, and that was a beautiful and tasty birthday cake!
Keto Bites Amsterdam: Final conclusions
The products are amazing. Healthy, low-carb, and keto, small bites, that keep you satisfied throughout the day.
I am so glad we have a new option in the keto Amsterdam scene.
I cannot wait for the more to come! Pam, Good luck for with your brand new business, and keto on!
Contact Pam here.
---
More ideas:
Eat Keto and low-carb in Amsterdam and in the Netherlands
Eat keto at IKEA
Keto products at Holland and Barrett
Keto products at HEMA
Keto at Starbucks
Keto meals at Vapiano
Keto snacks at AH To GO
Order keto food at home in the Netherlands
Keto at Five Guys