One of the first things I've learned about the keto lifestyle is the importance of Bulletproof Coffee or Keto Coffee.
With this coffee is very easy to skip breakfast and be full, energized, and satisfied for hours.
You can prepare it easily at home, with just coffee, unsalted grass-fed butter or ghee, and MCT oil.
If you are turning up your nose I totally understand you!
In the beginning, I was skeptical: the idea to mix coffee and butter didn't excite me.
Then I've tried it and I liked it. I love it!

It remembers me of some special seasonal coffee from Starbucks.
With no chocolate, caramel, and whipped cream, but still a special coffee!
The name Bulletproof coffee was coined by Dave Asprey, an American entrepreneur and founder of Bulletproof Nutrition.
Traveling in Tibet he discovered the benefits of yak butter tea.
Many cultures have been drinking butter coffee or tea for centuries.
Nowadays is a popular part of many high fat based diets.
It's important in the keto diet because helps to reach and maintaining ketosis.
It also supports the body in the transition to a low carb diet:
therefore it's also is a great ally to fight the keto flu.
The recipe is very easy. It takes 2 minutes to prepare and mix the ingredients.
Benefits of Bulletproof Coffee

Promote the weight loss

Reduce stress

Increase focus and concentration

Boost your overall energy

Sustain ketosis
When you can consume it

A popular choice is to replace the breakfast with keto coffee and don't eat until lunch.

You can combine it also with intermittent fasting: but if you are following pure fasting you will want to wait until the eating window has started.

Before I've started Intermittent Fasting, I had my breakfast around 7, eggs and bacon, and I brought the butter coffee in a travel mug, to sip it around 11-12.
Now I consume it in the afternoon, not because I need it to be full.
I drink it mostly for 2 reasons: first of all, I like it. Second, sometimes I don't have occasion to use my daily spoon of MCT oil, therefore is just easy to drop it in a cup of coffee.




The Bulletproof coffee is a great ally when you need to postpone a meal, be filled for hours. Plus, it sustains ketosis.

Keep in mind the adding butter and MCT oil rise your calorie intake: depending on the butter you use, every cup equals introducing more or less 200 calories.
You'll want to check your daily intake to be sure to not go over it.

Always careful with the calories you eat but also that you drink.

Below the recipe: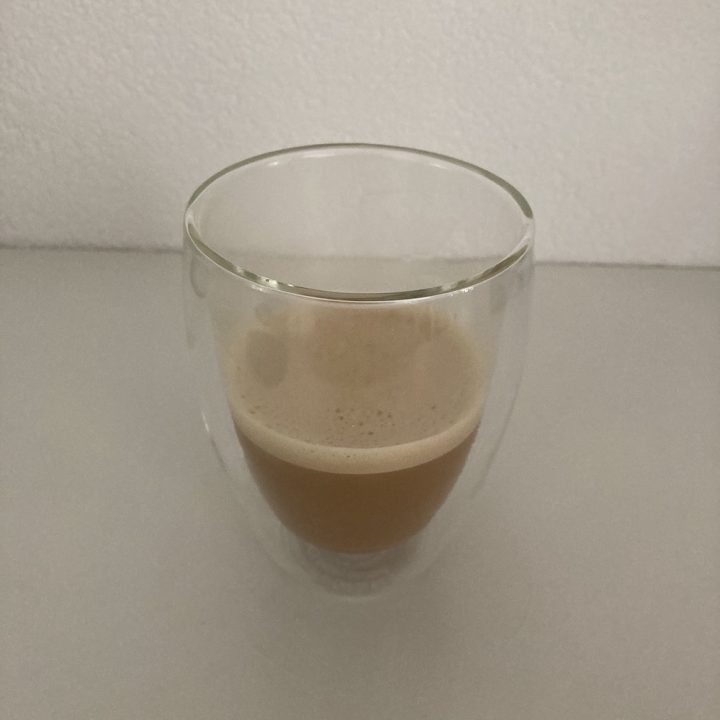 Bulletproof Coffee
The bulletproof Coffee is a tasty and creamy coffee that boost your energy.
Ingredients
250 ml black coffee
1 tbsp MCT Oil
1 tbsp Gras-fed butter (or Ghee)
Instructions
Mix all the ingredients with a blender or with a milk frother for 30 seconds.
Notes
Ditch the normal butter and choose always a good quality gras-fed butter because is richer in Omega3 fatty acids and K2 vitamins.
If you are sensitive to diary product, replace the gras-fed butter with ghee.
Recipe with ghee: 227 cal, 25,05 g fat, 0,15g carbs, 0,15g proteins
Nutrition Information:
Yield:

1
Serving Size:

1
Amount Per Serving:
Calories:

213
Total Fat:

23,3g
Saturated Fat:

20,3g
Carbohydrates:

0,2g
Fiber:

0,1g
Sugar:

0,2g
Protein:

0,15g
The nutrition calculation may vary depending on the ingredients you use. I did the calculation according to the ingredients I used.